How to Build Your Donor Stewardship Plan

Recurring donors can be challenging to come by. Some donors give once and feel that they've done their part. Others completely forget about your nonprofit organization. Some don't think their donation matters, so they don't consider giving again.

Whatever the reason, many supporters need you to reach out with a push in the right direction to keep the donations (and sharing and volunteering) rolling in. And that's why you need a donor stewardship plan.
What is Donor Stewardship?
Also called nurturing, donor stewardship is the ongoing process that allows you and your team to build meaningful relationships with donors and encourage long-term support so your organization can make more impact. The strategy behind donor stewardship is to communicate messages that reinforce trust, gratitude, and value to your supporters, so they feel that their contributions are both appreciated and useful.
Stewardship begins the second a donor makes a contribution, and if you've done it right, and maybe a little lucky, it lasts a long time, or at least as long as that donor stays committed to your mission. It's a significant component of the donor management process: the larger overall strategy of tracking donor data, understanding giving patterns, and communicating effectively with supporters.
Build Your Nonprofit's Donor Stewardship Plan
Stewardship activities are touchpoints for nurturing your donor relationships and helping to increase your donor retention rate. With this FREE template, you can map out your donor stewardship plan.
Benefits of a Donor Stewardship Plan
Building better donor relationships are, of course, desirable, but what does that actually mean? A nonprofit donor stewardship plan can lead to four specific outcomes beneficial to your organization and donors.

Here are four things a good donor stewardship plan should do for your nonprofit organization:
1. Keep Donors Engaged
A donor stewardship plan should always endeavor to keep donors engaged. An engaged donor understands the impact of their contribution. They know their donations matter and are being used in a way that aligns with their values.

Engaged donors feel informed and up-to-date. They feel an emotional connection to your organization's mission, and they are willing to continue supporting your cause. More on engagement later.
2. Improve Donor Experience
By communicating with your donors on an ongoing basis, you can learn more about them, understand their preferences, and modify your fundraising strategy to make it easier for donors and supporters to make contributions. By improving the donor experience, you can extend the length and value of your relationship with donors, i.e., donor lifetime value.
3. Boost Donor Retention Rate
Warm fuzzies about your organization are great, but what about cold, hard data? A solid donor stewardship plan will help improve your donor retention rate, which is the measure of how many donors continue to give at regular intervals, normally measured year over year. The more you engage donors, recognize them, and show accountability, the more likely they are to remain your donors and even share the word about your organization.

In 2020, the nonprofit industry average for donor retention was almost 34%, which means that about a third of donors continue to give after their first donation. But with an excellent stewardship plan, you can do even better.
4. Encourage Donors to Make More Contributions
A thoughtful and comprehensive donor stewardship plan keeps donors coming back. For some, communication from you is a great reminder to give. For others, demonstrating need reignites their passion for your cause.

Your stewardship plan can even encourage donors to increase their support or giving level, either in frequency or amount. While more and bigger donations are good for you, increased support is also great for donors who want to feel that they contribute to something positive. And the tax benefits are pretty good too.
See How Nonprofits Use Keela to Raise 4x More!
Get a glimpse of how Keela's donor management system can help you develop better relationships, retain donors and raise more for your cause.
8 Steps to Creating Your Nonprofit's Donor Stewardship Plan

Building lasting, meaningful relationships with people you've never met may sound like a daunting task. But if you break it down into easy-to-swallow chunks and slot them into your everyday operations, you'll find that it's quite manageable, especially when you start to see the impact on your bottom line.

We've broken the details down for you and included some donor stewardship best practices; just follow along, and you'll have long-term supporters falling in love with your organization in no time.

Here come eight steps to take when building your donor stewardship plan:
1. Form a Donor Stewardship Team
No matter how complicated or straightforward the plan, it's a good idea to start by outlining the required roles and who will do the work.

If you have a large team at your disposal, feel free to break down major roles into smaller responsibilities or rotate staff in and out to avoid fatigue. If you're a mighty team of one, it's still helpful to outline all the roles you'll need to fill to understand what needs to be done and what you'll have to do to achieve it.

2. Gather Donor Data
Whenever a new donor gives to your cause, they share some of their personal data with you. It's essential to collect this data to learn more about your donors, their preferences, financial situation, etc., so that you can communicate with them in a personalized way. Each time they interact with you, you gain a little more insight into what they want and get incrementally better at speaking to donors in a way that resonates.
Action Plan:
✔️ Create effective donation forms to collect online donations
✔️ Collect data such as name, contact information, gift size, gift type, payment method, campaign, etc.
✔️ Use an intuitive nonprofit CRM to organize your nonprofit data.

3. Segment Your Donors
Segmenting your donors helps you get the most out of the data you collected in the last step. Segmentation is the process of grouping donors by common characteristics, such as income level or geographic location.

By segmenting donors, you're further able to customize your communications to those groups, making your job a lot easier than writing individualized emails for every person. That's just not realistic for most organizations. The CRM you selected in the last step most likely makes this step reasonably straightforward, especially if you selected Keela.
4. Schedule Engagement Opportunities
Now that you understand who you're talking to and how you should say it, it's time to decide when to communicate and what to say. Scheduling engagement opportunities is part of the larger task of creating donor journey maps. It helps you stay organized, understand where your donors are in their personal giving cycle, and when and how to reach out to them.

5. Acknowledge Gift and Show Gratitude
When you've received a donation, the very first piece of communication that you absolutely have to send out as quickly as possible is a thank you letter.

Acknowledging a gift confirms that you've received it and demonstrates that your organization and its beneficiaries are grateful, which starts you on the path to building that critical emotional bond with your supporter. When sending a thank you message, try to use the same channel that the donor used to contribute (e.g., send a letter if you received a check, send an email if you processed their donation online).

Consider scheduling future communications that thank donors for their ongoing support at significant times of the year, such as the holidays, Giving Tuesday, the anniversary of their first gift, etc.
Download the Nonprofit CRM Buyer's Guide
This complete guide will help you evaluate your needs and shortlist CRM vendors so you can invest in the right tool for your organization.
6. Recognize Donors
Regardless of the size of a donation, donors need to be recognized to keep them coming back. Whereas thanking a donor is part of a financial transaction, recognition is less about gratitude for funding and more about appreciating the donor's belief in your mission. Find creative ways to show them that their support is valued, such as a welcome package, small gift or reward, invitation to a special event, or for major donors, public recognition.

7. Show Donors the Impact of their Gifts
A significant percentage of donors are concerned with how their donations are being spent, so it's good practice to be upfront with where the money is going and the impact it's making. Showcasing progress is a great way to keep those donations rolling in since people want to be a part of something with a strong likelihood of success.

Email is an excellent tool for this type of communication. Add stories, photos, statistics, links to additional information, anything that reinforces the impact of a donation, and of course, a donate button. For major donors, consider making updates by phone to give it a personal touch. For flexibility, you could opt for cloud based phone systems to make communication easier with your donors.

8. Evaluate Your Plan and Keep Stewarding Your Donor Relationships
Donor stewardship is an ongoing process that needs attention, monitoring, assessment, and revision. Donors often need multiple touchpoints to keep them committed to supporting your mission. So don't think that one trip through these steps is enough. Keep talking to donors, assessing the effectiveness of your communications, and making changes to ensure that your plan is functioning as efficiently as it possibly can.

Be sure to analyze your data over time, and check to see how your donor stewardship strategy impacts your average gift size, donor lifetime value, donor retention, etc.
Action Plan:
✔️ Evaluate your performance using these metrics
✔️ Occasionally send donor surveys to get an idea of how your communication is being received.
✔️ Review your nonprofit KPIs and analyze the data you collect to see what can be improved
✔️ Make changes to improve your metrics.
✔️ Use our email templates to encourage donors to make recurring contributions.
✔️ Keep stewarding your donors.

As a nonprofit professional, you're likely already doing a lot of the steps on this list. The key is to formalize it on your schedule so that nothing falls through the cracks when you start to get busy with other things. Make it a part of your overall marketing plan, stay flexible, iterate on your success, and you're almost guaranteed to see your donors come back month after month or year after year to support your mission.
How Well Do You Really Know Your Donors?
Download our 3-part guide and learn why you need to get to know your donors, how to gather the information you need, and ultimately, what to do when you find it.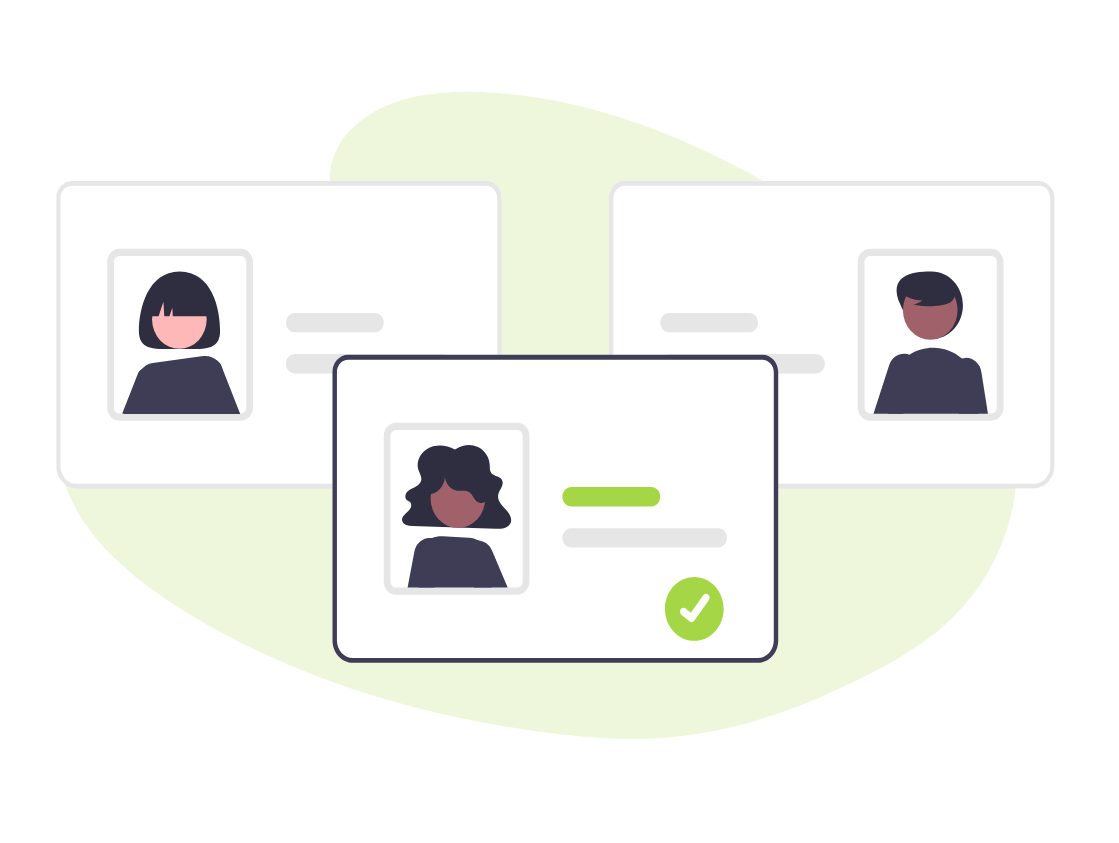 This 3-part guide will walk you through how to ask and track your donor preferences through surveys, segmentation, and other easy-to-use technologies, allowing you to understand who your ideal donor is and how to best reach them.